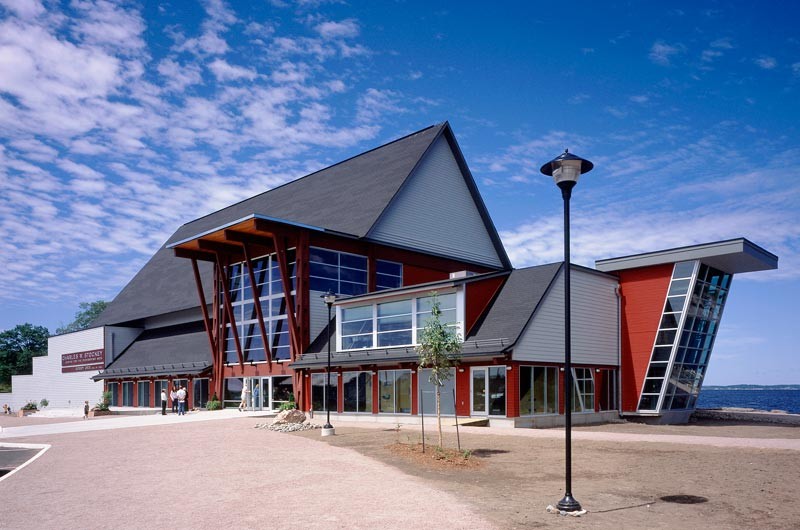 Our Centre
The Charles W. Stockey Centre for the Performing Arts is located in Parry Sound, Ontario, Canada. It houses a 400-seat Festival Performance Hall and the Bobby Orr Hall of Fame. The Stockey Centre sits on a 3.5-acre waterfront site overlooking beautiful Georgian Bay. The building opened on July 18 2003 and runs year-round, presenting artists of excellence and celebrating athletes of excellence.
The Festival Performance Hall is constructed out of the area's natural stone and indigenous trees. It has stunning acoustics as it was designed as a home for the Festival of the Sound, a world renowned festival of chamber and classical music which runs from mid-July to mid-August each year. Performances of all genres are presented in the Performance Hall during the rest of the year including music of all types (pop, rock, folk, blues, jazz, country, chamber, classical and world music), theatre, contemporary dance, comedy, literary readings, performances for children and community events.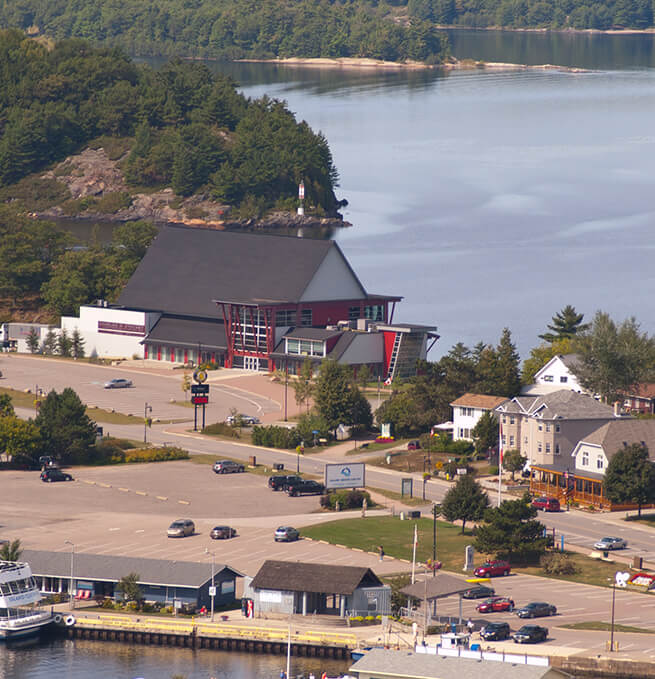 The Bobby Orr Hall of Fame is an interactive hockey museum with a wide variety of photos, memorabilia and artifacts about Bobby Orr, who was born in Parry Sound. Exhibits include Orr's NHL rings, a number of his trophies and awards, some of the jerseys he played in, a pictorial history of his career and a number of interactive games and activities related to hockey. The Bobby Orr Hall of Fame also hosts exhibits about other exceptional athletes with ties to Parry Sound.
The Gift Shop is located in the Lobby and features a unique line of souvenirs from both the Bobby Orr Hall of Fame and the Festival Performance Hall.
There are two multi-purpose rooms, the Festival Room and the Prelude Room, in the Stockey Centre which can be used for small concerts, panel discussions, meetings and other activities. Each room seats up to 50 people. The Festival Performance Hall can be turned into a banquet facility for up to 200 people and can be rented for weddings, staff banquets, conferences and other private functions.
We also plays host to a rotating gallery of art from Artists Round the Sound in our atrium. These works celebrate our area in many styles and media.
The Charles W. Stockey Centre for the Performing Arts and the Bobby Orr Hall of Fame, where nature, culture, sports and entertainment meet – it is one of the many great things to do in Ontario!
The Charles W. Stockey Centre and Bobby Orr Hall of Fame acknowledges that we are situated on the traditional territory of the Anishinabek under the Robinson-Huron Treaty of 1850. We are grateful to have the opportunity to work in their community, on this territory. The National Truth and Reconciliation Commissions' Call to Action #87 asks Halls of Fame to provide public education to tell the story of Aboriginal athletes in Canadian history, we are committed to doing this work.