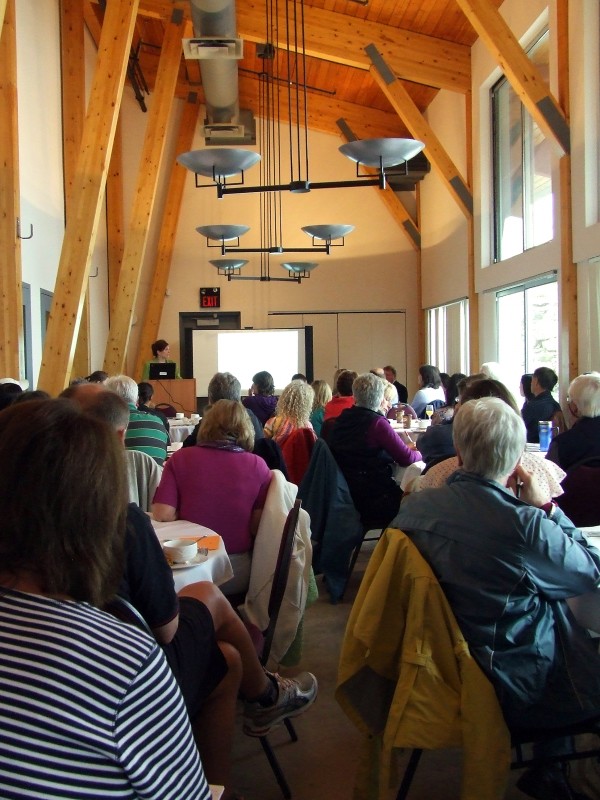 Hold your conference, meeting, trade show or private event here at the Stockey Centre:
The Stockey Centre is the perfect venue for conferences, parties, meetings, trade shows or just about any other kind of event you may have in mind.
Our Performance Hall can be configured in theatre set-up, seating about 400 people, with a large projection screen, professional sound system and technical support for presentations. Or we can configure it in a flat floor set-up, perfect for dinners, trade shows or tables for your participants, and you still have all the presentation features we have in-house.
We also have two side rooms, the Festival Room and the Prelude Room (pictured to the right), which work well for smaller meetings, break-out rooms or to give a social networking space for your event participants. Of course, we have our large patio overlooking Georgian Bay, our Atrium and arrangements can be made for the Bobby Orr Hall of Fame to be available to your participants as well.
With a full commercial kitchen on site, meals can be catered right here, meaning you don't have to leave the Centre for meals, and getting more done in your day. The Stockey Centre is also fully licensed: we can provide a full bar service for your event.
For more information on how to rent our facility,  please contact Nicole Mullen by email at nmullen@stockeycentre.com or at (877) 746-4466 ext. 202.
The Stockey Centre – Rental Rates 2023 [PDF]