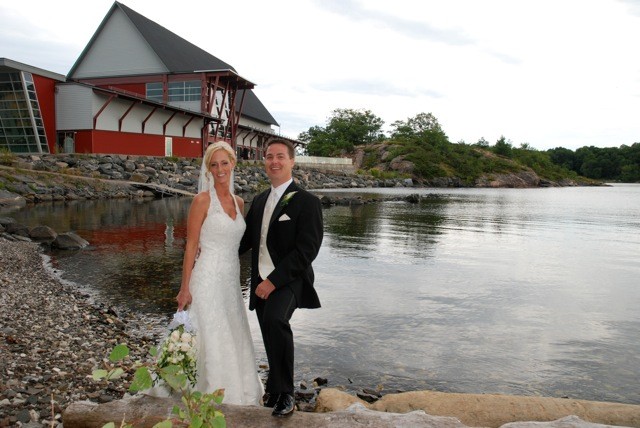 Thank you for considering holding your wedding here at the Stockey Centre. You probably have a whole series of very good questions about holding a wedding here. We intend that this document below will provide a series of helpful answers. After reading this, we will be happy to answer any questions that you still have personally.
The Charles W. Stockey Centre for the Performing Arts is an architecturally striking building nestled on the shore of Georgian Bay in Parry Sound, the heart of the 30,000 Islands. Our Performance Hall, with soaring its cathedral ceilings and granite walls, can seat up to about 200 people for a sit down dinner. Our Prelude Room and Patio overlook the waters of Parry Sound, offering an unparalleled location for your ceremony and guest reception, as well as a sunset you won't soon forget.
You can have the Stockey Centre to host your reception or both your reception and ceremony. Please download the document below entitled Your Wedding at the Stockey Centre. It is in Adobe PDF format and requires the free Adobe Reader to view it. Also, please take a look at our Wedding Photo Gallery below to browse samples of previous weddings we've held at the Stockey Centre.
We hope this information package will answer most of your questions. Should you have any other questions, please do not hesitate to ask. We look forward to hosting your big day here at the Stockey Centre!