Menopause The Musical
November 7, 2022
@
8:00 pm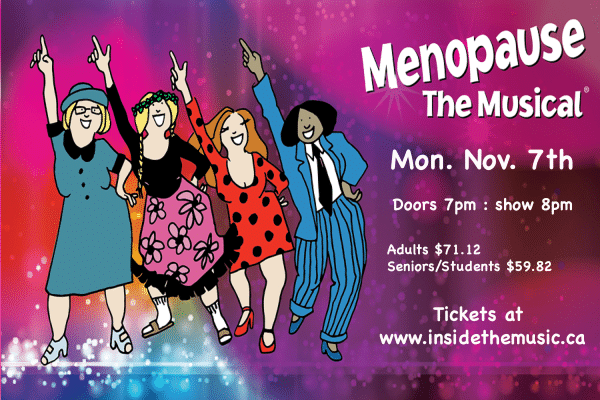 Smash Hit Returns – Menopause The Musical!
After 5 years "Menopause The Musical" returns to The Stockey Centre.
Come see what millions of women worldwide, have been laughing, cheering and raving about for years!
Set in a department store, four women with nothing in common, realize they have a lot more to share, than they ever thought possible!
The Canadian All-Star Cast makes fun of hot flashes, night sweats, mood swings, wrinkles, not enough sex, too much sex, chocolate binges and much more!
"Menopause" is hysterical & leaves you singing & dancing in the aisles. A brilliant comedy staged to 25 Classic Hits from the '60s, '70s and '80s.
Tickets are $59.99 + $2.95 in ticket surcharges + HST for adults and $49.99 + $2.95 in ticket surcharges + HST for seniors and students.
Tickets can also be purchased during our business hours by calling our Box Office at 705-746-4466 extension 205 or visiting us at 2 Bay Street, Parry Sound.
"Come See It – You'll Love It" – Joy Behar
"You'll Laugh Through The Whole Show" – CTV
Entertainer Of The Year Award – 2016 Las Vegas
Bring your Mother, Daughter, Sister or Friends!
Come Celebrate Your Womanhood & Join The Sisterhood!
See It For The 1st Time or Come Love It Again!