Parry Sound Festival of Authors
October 29, 2019 @ 7:30 pm
$15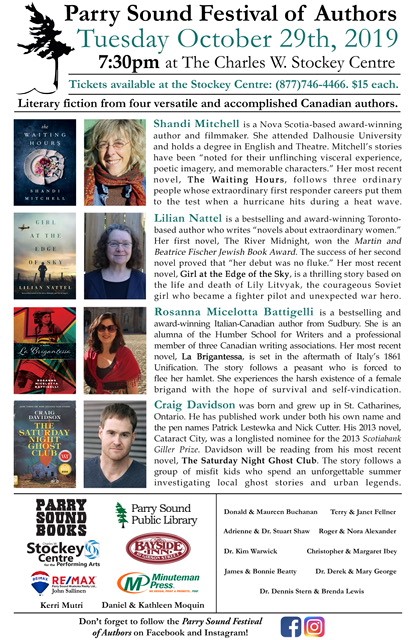 Literary fiction from four versatile and accomplished Canadian authors.
Shandi Mitchell is a Nova Scotia-based award-winning author and filmmaker.  She attended Dalhousie University and holds a degree in English and Theatre.  Mitchell's stories have been "noted for their unflinching visceral experience, poetic imagery, and memorable characters."
Her most recent novel, The Waiting Hours, follows three ordinary people whose extraordinary first responder careers put them to the test when a hurricane hits during a heat wave.
Lilian Nattel is a bestselling and award-winning Toronto-based author who writes "novels about extraordinary women." Her first novel, The River Midnight, won the Martin and Beatrice Fischer Jewish Book Award.  The success of her second novel proved that "her debit was no fluke." Her most recent novel, Girl at the Edge of the Sky, is a thrilling story based on the life and death of Lily Litvyak, the courageous Soviet girl who became a fighter pilot and unexpected war hero.
Rosanna Micelotta Battigelli is a bestselling and award-winning Italian-Canadian author from Sudbury.  She is an alumna of the Humber School for Writers and a professional member of three Canadian writing associations.  Her most recent novel, La Brigantessa, is set in the aftermath of Italy's 1861 Unification.  The story follows a peasant who is forced to flee her hamlet.  She experiences the harsh existence of a female brigand with the hope of survival and self-vindication.
Craig Davidson was born and grew up in St. Catherines, Ontario.  He has published work under both his own name and the pen names Patrick Lestewka and Nick Cutter.  His 2013 novel, Cataract City, was a longlisted nominee for the 2013 Scotiabank Giller Prize.  Davidson will be reading from his most recent novel, The Saturday Night Ghost Club.  The story follows a group of misfit kids who spend an unforgettable summer investigating local ghost stories and urban legends.