PSHS Reunion – Feelin' Like 18 In 2018
August 24, 2018 @ 7:00 pm
$59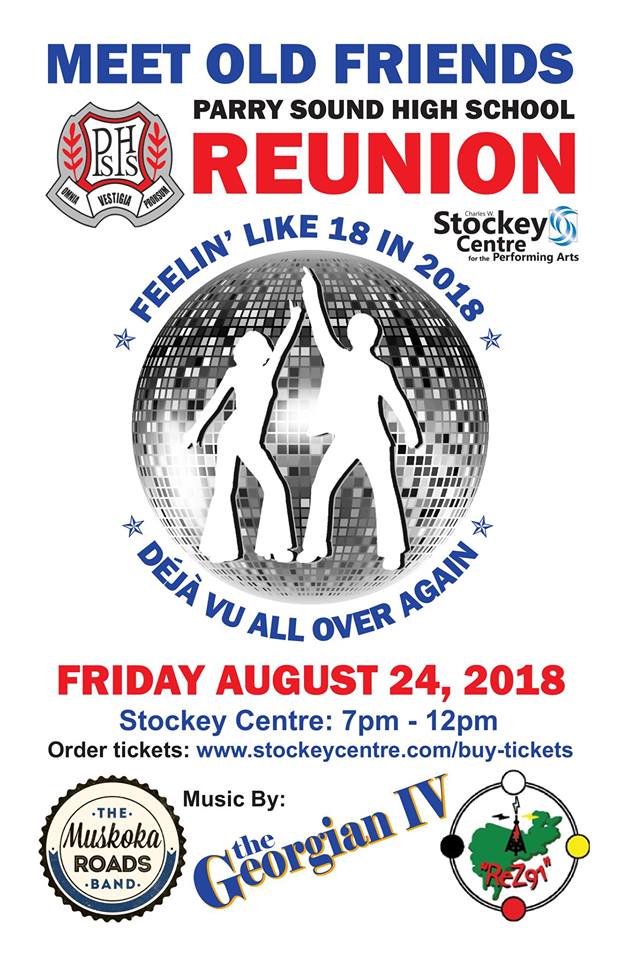 Meet old friends you haven't seen for years at the Parry Sound High School Reunion!
Ross Raby and John Johnson from The Georgian IV, Chimo and Scrap Iron toured with performers like Chuck Berry, The Band, Blood Sweat and Tears, Janis Joplin, Alice Cooper, and Chicago, but on August 24th they are coming home to play some music and meet old friends at the Parry Sound High School Reunion with their local musician friends: Kirk Gabel and John McIsaac.
Fan favourite and PSHS alumni Jefferson Young, John McIsaac, and the boys from Muskoka Roads will also be performing at the Parry Sound High School Reunion.
These bands will play anything – rock 'n' roll, country, and blues – as long as it's the good stuff.
There will be great music for listening and dancing all evening in the Concert Hall. Hang out near the cash bar in the Atrium and choose from an endless variety of hors d'oeuvres. Join old friends on the Stockey Centre Bayside Deck overlooking Georgian Bay and rekindle friendships while you enjoy westerly breezes and a glorious sunset.
Because this is a reunion event, you can expect to be circulating among the four areas reserved for the evening.
Caterers will provide food throughout the event and the venue.  Drinks are available from the Cash Bar in the Atrium, a large open area for meeting friends, with doors at Bay Street and at the Patio on the Bay.  Cocktail seating will be available in all rooms, to gather friends and chat, including the Concert Hall, where two bands and guest artists will alternate between music and meeting old friends themselves.
There is NO concert seating for this event, which focuses on the alumni, sharing memories and fun together, circulating among all four areas of the Stockey Centre with friends, food and drink, music and Georgian Bay.