Speaker: Brad Reedy, Ph. D.
November 16, 2018 @ 7:00 pm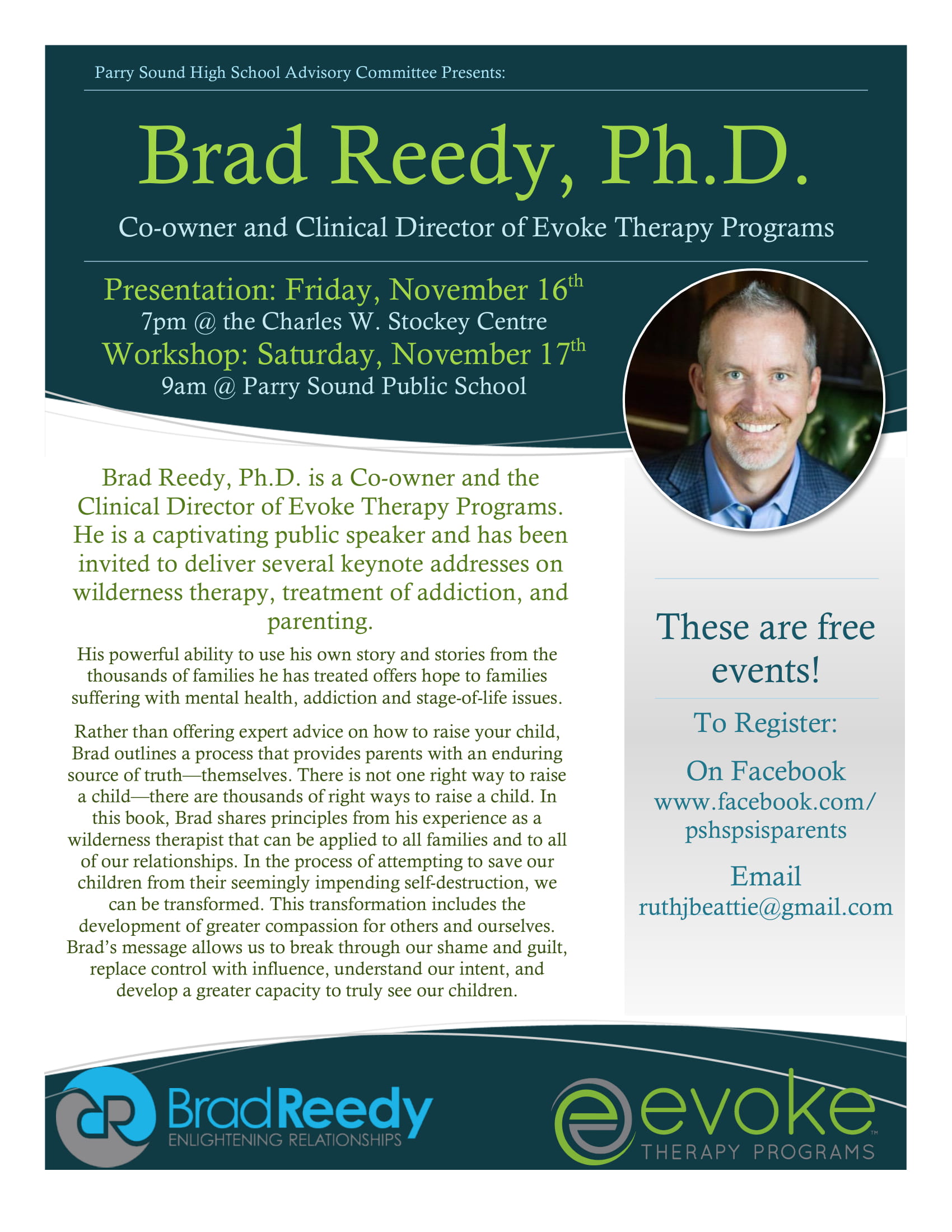 Parry Sound High School Advisory Committee Presents:
Brad Reedy, Ph.D., Co-owner and Clinical Director of Evoke Therapy Programs
Presentation: Friday, November 16th at 7pm @ the Charles W. Stockey Centre
Workshop: Saturday, November 17th at 9am @ Parry Sound Public School
Brad Reedy, Ph.D. is a Co-owner and the Clinical Director of Evoke Therapy Programs. He is a captivating public speaker and has been invited to deliver several keynote addresses on wilderness therapy, treatment of addiction, and parenting.
His powerful ability to use his own story and stories from the thousands of families he has treated offers hope to families suffering https://thehealthchoices.com/valtrex.html with mental health, addiction and stage-of-life issues. Rather than offering expert advice on how to raise your child, Brad outlines a process that provides parents with an enduring source of truth—themselves. There is not one right way to raise a child—there are thousands of right ways to raise a child. In this book, Brad shares principles from his experience as a wilderness therapist that can be applied to all families and to all of our relationships. In the process of attempting to save our children from their seemingly impending self-destruction, we can be transformed. This transformation includes the development of greater compassion for others and ourselves. Brad's message allows us to break through our shame and guilt, replace control with influence, understand our intent, and develop a greater capacity to truly see our children.
These are free events!
To Register:
On Facebook – www.facebook.com/pshspsisparents
Email – ruthjbeattie@gmail.com