Postponing: Whiskey Jack: Stompin' Tom's Canada Meets Sean Cullen's Comedy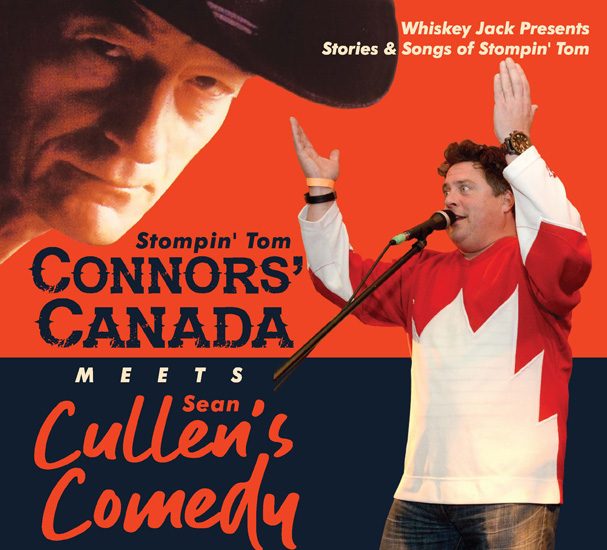 This event is being postponed, staff are in the process of contacting all ticket holders as of March 24, 2021.
"Stompin' Tom's Canada Meets Sean Cullen's Comedy" is a playful, funny, very musical and all Canadian show starring one of Stompin' Tom's favourite touring bands, Whiskey Jack.  Sean and the band have presented their onstage antics numerous times over the years and will be on tour again in 2020. Duncan Fremlin and his show "Whiskey Jack Presents Stories & Songs of Stompin' Tom" first invited comedian, author, actor and singer Sean Cullen to join them at their very first concert in 2014.  As Sean stepped onto the stage that night, he told the audience that Tom had written songs about potatoes, tomatoes and tobacco but sadly, not one about what many consider to be Canada's national food, poutine.  Within minutes and with the band providing the soundtrack, I Love Poutine was created, on stage, in front of hundreds of hungry fans.  It brought the house down! Whiskey Jack's 25 years on stage and in the studio with Stompin' Tom form the heart and soul of this show, now in its 7th year.   Each night, Duncan and his all star musicians, including 5 time Canadian National Fiddle Champion, Randy Morrison and 2 time Juno nominee, Douglas John Cameron, captivate the fans by singing all the hits (The Hockey Song, Bud the Spud and more) and sharing stories of the private, backstage world of Stompin' Tom.  And yes, these are the outrageous tales that made him the legendary iconic hero to the entire country. Joining this cast of Canadian characters is a long time friend and collaborator with this show, Cindy Church.