Jason McCoy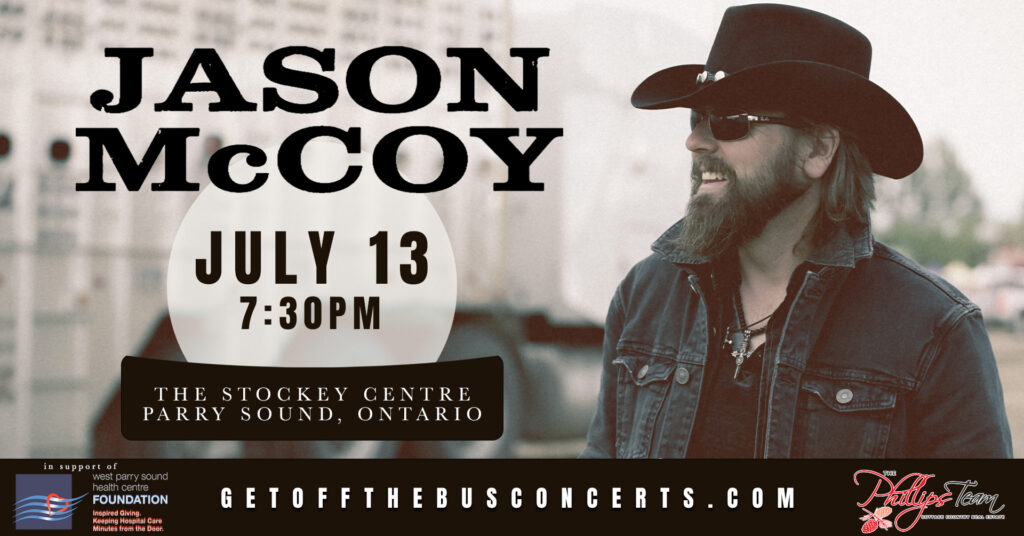 Get Off the Bus Concerts is pleased to present Jason McCoy on Thursday, July 13th, 2023 at 7:30pm at The Charles W. Stockey Centre. This show is in support of The West Parry Sound Health Centre and sponsored by The Phillips Team – Cottage Country Real Estate. Tickets are available March 13th at stockeycentre.com, getoffthebusconcerts.com or by calling the box office at 877-746-4466.
As a 30 year veteran of the entertainment industry, and two time CCMA Male Vocalist of the Year, Jason McCoy appears to be the king of reinvention.
Racking up multiple CCMA and CMA awards along with a Gold album and CMA Global Artist Award (Nashville), Jason remains in demand on the live touring circuit, and pulls double duty at morning radio for Pure Country 106. Fans can also tune in Saturday evenings for his Nationally Syndicated radio show, Nothin' But the Nineties on the Bell Media Network.
As creator and front man of The Road Hammers, the best selling band in Canadian Country Music history, Jason took on the Country Rock genre and guided the band to unprecedented success throughout Canada and the United States, picking up a platinum album, platinum single (MUD), 3 x CCMA Group of the Year, and a Juno along the way….but music is only part of the story….
Equally at home in front of the camera as host of Smashtown (CMT Canada/USA), two seasons of CMT's Pet Heroes, and Jason McCoy Eats America, Jason has solidified his place in the fabric of the Country Music industry.
In 2020, Jason wrote and recorded 'We Are One', and initiative to raise funds for Musicians in Need during the pandemic. The song and video has raised thousands of dollars for the Unison Fund, enlisting artists from all around the world, including Canada, USA, France, Greece, Australia and China.
Continuing to write and record music, Jason prizes the time he spends with his wife and two children at their home farm, just two miles from the small town of Minesing where it all began.
With Opening Act: One Ugly Cowboy
ONE UGLY COWBOY (OUC) is an original Toronto based country/rock band fronted by powerhouse female vocalist 'Hurricane Jane'. In May 2023, they broke the record on the Canadian Indie Country Countdown chart with their sixth #1 fan-voted single. OUC always delivers a high-energy show including putting their 'ugly cowboy spin' on classic tunes that span the spectrum from QUEEN to JOHNNY CASH.
Tickets are:
Orchestra: $79 + HST
Mezzanine: $74 + HST
Balcony: $69 + HST
Tickets can also be purchased during our business hours by calling our Box Office at 705-746-4466 extension 405 or visiting us at 2 Bay Street, Parry Sound.