RON JAMES – Back Where I Belong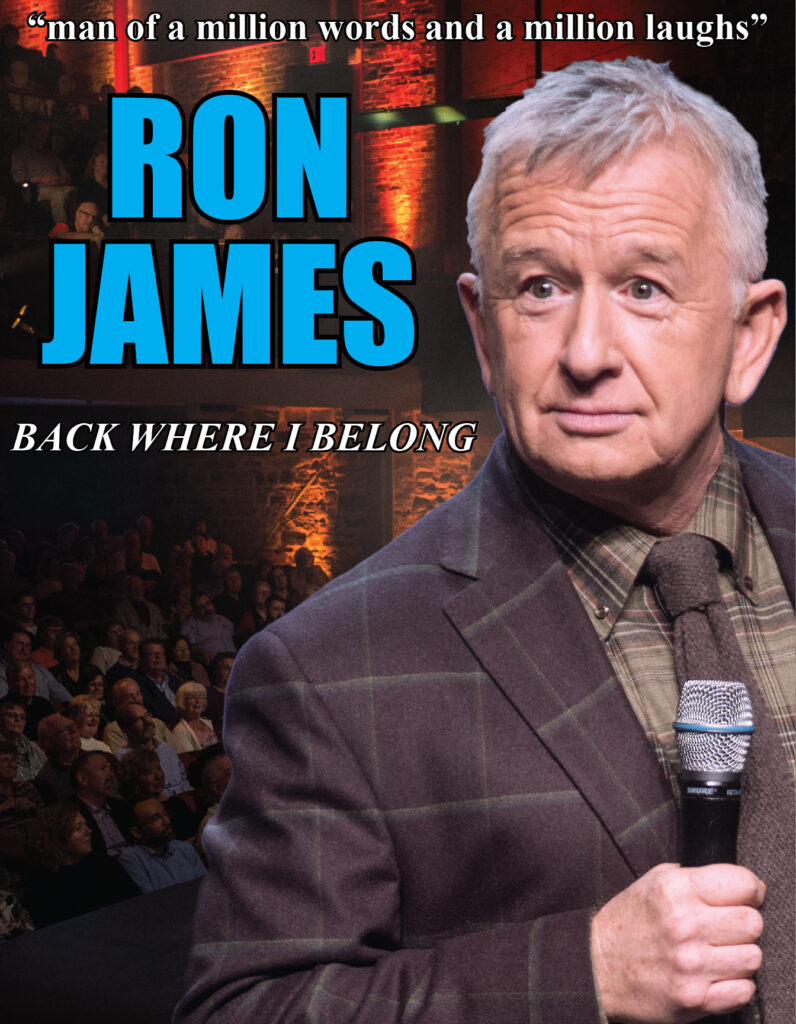 Canada's stand-out amongst 'stand-ups', award-winning comedian RON JAMES has been selling out theatres for over 20 years with his marathon, side-splitting performances. Marshalling a comedian's eye for satire and a writer's ear for language, Ron takes his audience on a breath-taking, non-stop roller coaster ride, cutting a wide swath through contemporary culture with a razor-sharp wit, uncompromising standard and unique, poetically honed delivery.
Along with five seasons starring in his own series, "The Ron James Show", his record breaking nine critically acclaimed one-hour comedy specials fast became a New Year's Eve viewing tradition for millions of Canadians. Not to be sidelined by the pandemic, he capitalized on lockdown after lockdown and wrote his first book, 'All Over the Map: Rambles and Ruminations from the Canadian Road', released by publishing giant Penguin-Random House, September 28th. With the light looking brighter every day at the end of the tunnel, Canada's #1 road warrior is back where he belongs: live onstage delivering laughs face to face to audiences sitting shoulder to shoulder, coast to coast clear cross the Big Wide Open!
"Utterly Brilliant" – Ottawa Sun
"a man of a million words and a million laughs … genius" – Globe & Mail
"fits of helpless laughter" – Halifax Herald
"hysterically funny … at the top of his game" – Toronto Star
"gut-busting, knee-slapping funny" – Ottawa Citizen
"funniest man in Canada" – Victoria Times-Colonist
"thunderous standing ovation" – Saskatoon Star Phoenix
Visit http://www.ronjames.ca/video/ for more of Ron James!
Tickets are $61.57 + HST each.
Tickets can also be purchased during our business hours by calling our Box Office at 705-746-4466 extension 405 or visiting us at 2 Bay Street, Parry Sound.