The 4th Annual Gchi Dewin Indigenous Storytellers Festival
November 30, 2018
@
10:00 am
–
December 1, 2018
@
9:30 pm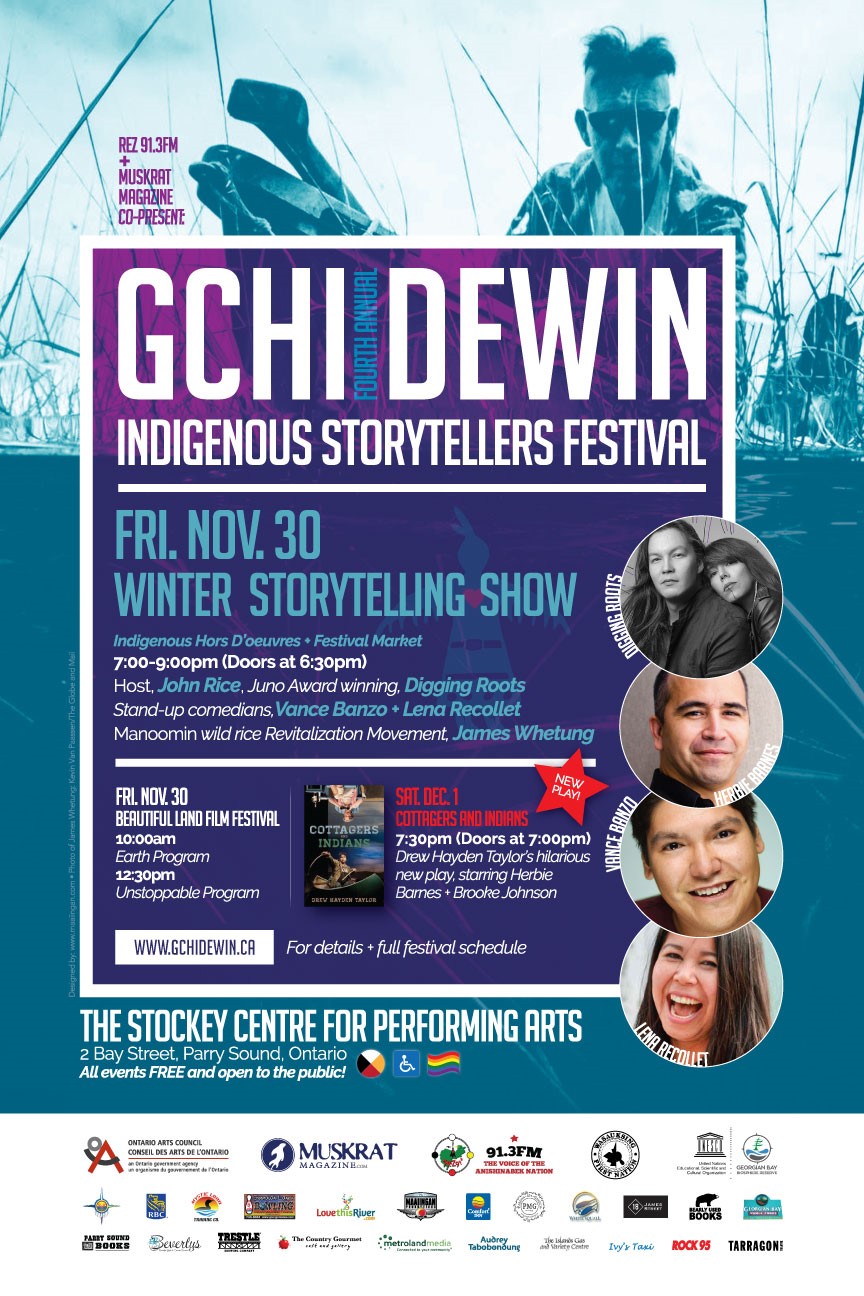 ReZ. 91.3FM and MUSKRAT Magazine Co-present:
The 4th Annual Gchi Dewin Indigenous Storytellers Festival
NOV 30. – DEC. 2, 2018
Indigenous Storytelling at The Stockey Centre for Performing Arts
2 Bay Street, Parry Sound, Ontario
All events are FREE and open to the public!
OUR BEAUTIFUL LAND FILM FESTIVAL Fri. Nov. 30
10:00am – Earth Program
12:30pm – Unstoppable
WINTER STORYTELLING SHOW, INDIGENOUS COCKTAILS Fri. Nov. 30
& FESTIVAL MARKET
7:00-9:00pm (Doors open at 6:30 pm)
Host, John Rice
Juno Award winning, Digging Roots
Stand up comedians, Vance Banzo and Lena Recollet
Manoomin Wild Rice Revitalization Movement, James Whetung
COTTAGERS AND INDIANS Sat. Dec. 1
Drew Hayden Taylor's Hilarious new play based on a true story, starring Herbie Barnes and Brooke Johnson
7:30pm (Doors open at 7:00pm)
REZ RADIO STORYTELLING BROADCAST Sun. Dec. 2
Show times: 9:30am; 12:30pm; 5:30pm; and 7:30pm
Tune into ReZ.91.3 FM or live stream at www.rez91.com to hear a special Indigenous radio documentary.
Full Festival Schedule www.gchidewin.ca