Orillia Silver Band: Sleigh Bells & Brass
December 2, 2018 @ 2:00 pm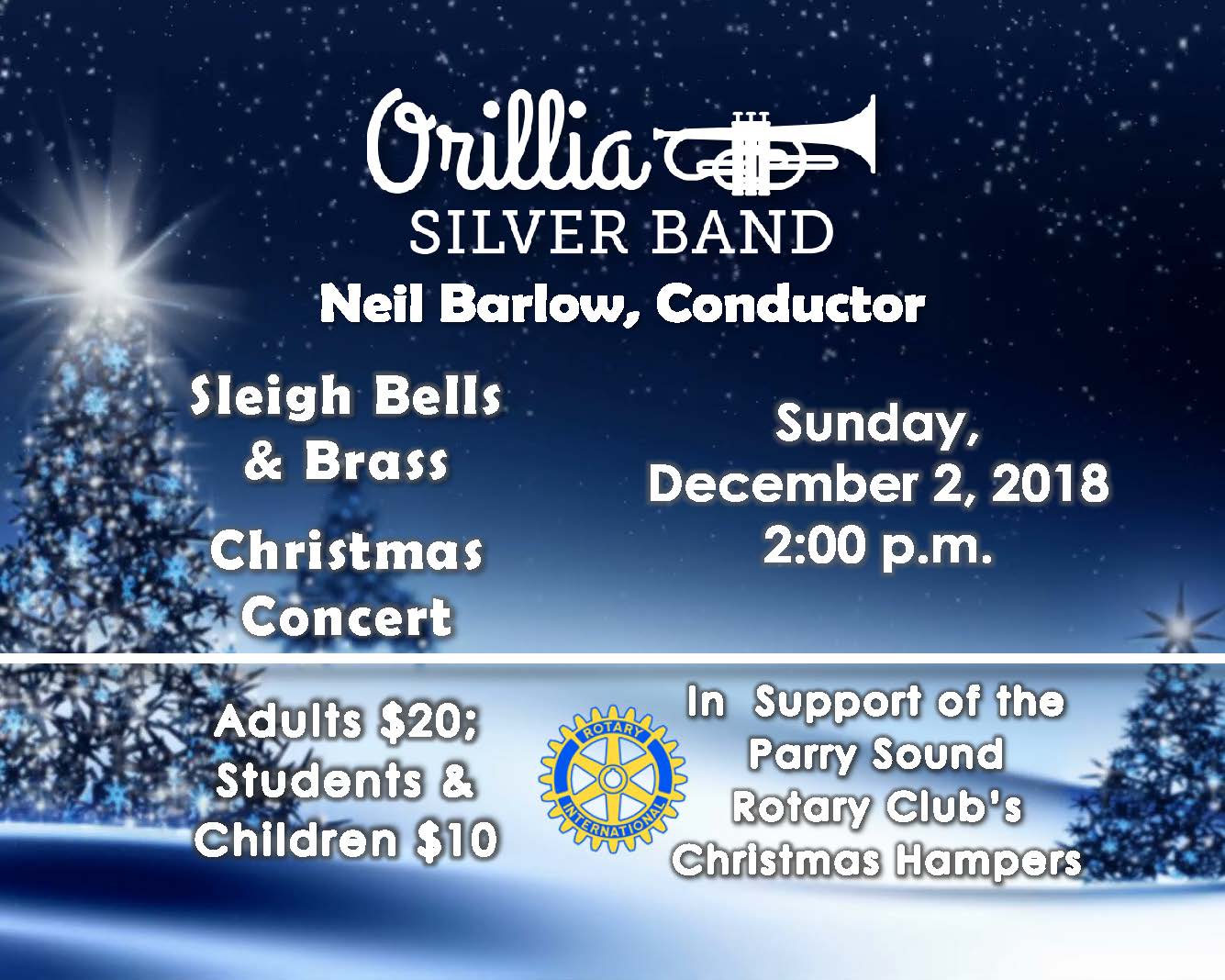 The Orillia Silver Band returns to Parry Sound for its 14th Annual Sleigh Bells & Brass Christmas Concert.  The concert takes place on Sunday, December 2, 2018, 2:00 pm at the Stockey Centre.  The Band is donating $2 for every adult ticket ($1 for student/child ticket) to the Rotary Club Christmas Hampers Program.
The Silver Band is also pleased to welcome a Children's Choir from Parry Sound Public School as its Special Guest.  Under the direction of teacher Kelly Crowhurst, the choir will offer seasonal carols and perform a special medley with the Band.
The concert will feature both new and traditional music of the season, with ample opportunity to sing your favourite carols.  Among the items to be performed during the Christmas concert this year are Alfred Reed's beautiful Russian Christmas Music (a real showcase for festive percussion); the exciting Gaudete! by Kevin Norbury – based upon an ancient French carol; and a perennial holiday favourite – Leroy Anderson's A Christmas Festival.
And if that's not enough, the Band will be selling a new Christmas CD at the Concert.  Christmas Time is Here with the Orillia Silver Band was recorded last March at St. James' Anglican Church in Orillia.  The CD features both new and classic Christmas works that have proved popular at the Band's Christmas events.  The title track, from "A Charlie Brown Christmas", was written by the great American jazz pianist, Vince Guaraldi.  For fans of traditional holiday carols, An English Christmas by Philip Sparke and A Christmas Fantasy by Gordon Langford will appeal.  The modern Christmas classic O Magnum Mysterium by Morten Lauridsen is included on the album.  A towering classic for brass band at Christmas, The Kingdom Triumphant by Eric Ball, appears on the CD as well.  The CD will be on sale for $15.00.  So plan to start your Christmas shopping early; it will make a great stocking stuffer for music lovers.
Adults $20, Children/Students $10